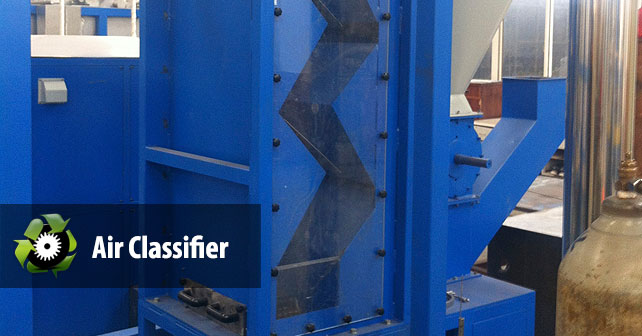 Description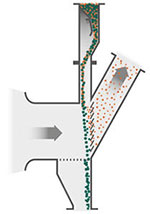 Air classifiers use air as the medium to separate lighter materials from heavier ones. A mixed material stream is dropped into a sorting chamber containing a column of raising air. As the material mixes and is blown upwards, lighter objects are blown through a top exit while heavier objects drop through the bottom exit.
While ASG's air classifiers can be used in various applications, a major usage is in PET bottle recycling. Once whole PET plastic bottles are crushed and granulated into flakes, contaminants such as paper and plastic labels can be effective removed using our air classifier.
Models & Specifications
Blower Motor:
5.5 KW
Rotary Valve Motor:
1.5 KW
Rotary Valve Diameter:
⌀270mm
Rotary Valve
Rotating Speed:
50 RPM
Cyclone Separator Volume:
600 L
Additional Images
Place An Order
The general lead time for all single-piece, standard equipment orders is 30 days. For custom orders or complete washing lines, the lead time is between 60 – 90 days. The actual lead time will depend heavily on the complexity of the project as well as the amount of machinery we have in queue at the time of your order.
Contact us to discuss pricing and ordering details. Here is a brief summary of our ordering procedures.