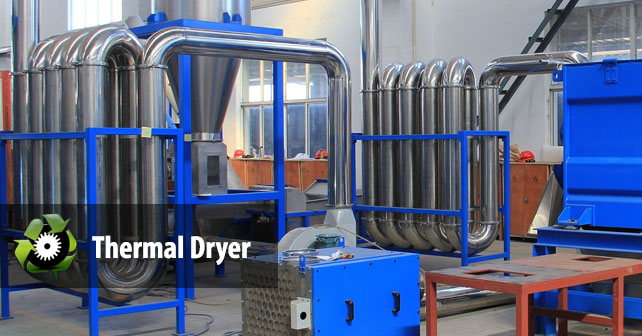 Description
ASG's thermal dryer is an excellent way to remove moisture through dehydration. Specially designed for our PE and PET washing lines, this continuos drying apparatus is strategically placed after the dewatering machine. The thermal dryer attached with a cyclone separator is an essential final step in reducing moisture levels to below 3%.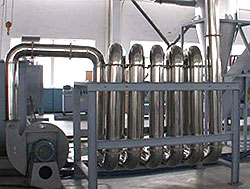 Thermal dryers use hot air to dry the plastic material, much like a hair dryer. After dewatering, the plastic material is vacuumed out by a transport blower and mixed with hot air traveling through a long set of stainless steel tubing that winds back and forth. As the plastic material mixes and spins around within this lengthy transport tunnel, moisture is effectively dehydrated. Ending with a cyclone separation apparatus, where cool air is mixed in, residual moisture is further reduced. The cyclone separator is the last stand against any dust and fines within the material stream.
Depending on the capacity of your washing line, the use of one thermal heater is usually enough. However, to ensure the lowest possible moisture levels, some washing plants may request the use of two or even three thermal heaters that are positioned in a row.
Specifications
| | | | | |
| --- | --- | --- | --- | --- |
| Model # | Blower Power | Heating Power | Pipe Diameter | Pipe Material |
| RSJ800 | 5.5 KW | 36 KW | ⌀159mm | Type 304 Stainless Steel |
Place An Order
The general lead time for all single-piece, standard equipment orders is 30 days. For custom orders or complete washing lines, the lead time is between 60 – 90 days. The actual lead time will depend heavily on the complexity of the project as well as the amount of machinery we have in queue at the time of your order.
Contact us to discuss pricing and ordering details. Here is a brief summary of our ordering procedures.