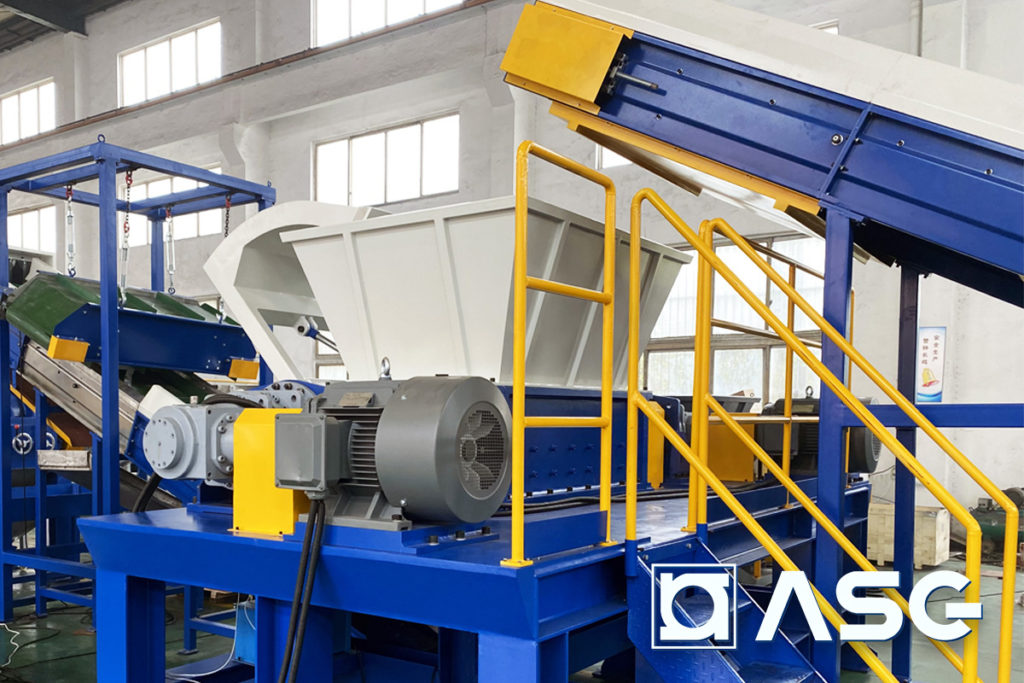 Our double-shaft plastic shredder machines are heavy-duty, low-speed, high-torque machines used primarily to "pre-cut" large volumes of bulky plastic materials. Its wide intake chute opening allows it to shred entire bales of plastic film and other rigid plastics into small pieces usually between 1-5 inches.
For most plastic recycling plants, these small plastic pieces are then fed into a plastic granulator machine to produce plastic flakes or regrinds that are under 1 inch in size.
Due to its versatility and robust nature, you will find our double-shaft plastic shredders being commissioned in a multitude of industries including but not limited to:
Rubber recycling
Metal recycling
E-waste (electronics waste) or WEEE recycling
Wood recycling
Destruction of products for liability issues such as sensitive documents including computer storage media such as hard disks, x-rays, expired goods, outdated stock, pharmaceuticals, etc.
Size reduction in wastewater treatment plants and other municipal applications.
Pre-cutting other solids such as destruction of foods, pallets, steel and plastic drums, furniture, construction debris, containers, corrugated boxes, packaging, labels, and other bulky materials.
WORKING PRINCIPLE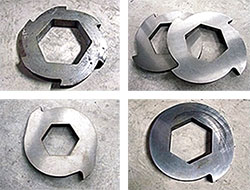 At the core of our double-shaft plastic shredder machines, heavy-duty shear blades are mounted on 2 hexagonal shafts that rotate into each other producing a cutting / shredding motion. These robust hooked styled shear blades rotate at slow speeds allowing plastic shredders to have the unique ability to quietly shred large pieces and high volumes of feed stock into random, smaller pieces between 1-5 inches. The low speed of the rotors also ensures that little or not dust is generated.
As our double-shaft plastic shredder machines are usually placed in front of the most demanding jobs, the frame and structure of our shredders use high-thickness sheets and tubular. The shear blades are treatment strengthened and use only the highest quality SKD11 steel (D2 equivalent) to ensure against dulling. Depending the capacity you require, we offer a variety of standard double-shaft shredders for your choosing.
TECHNICAL SPECIFICATIONS
Model #
Main Motor Power
Number of Blades
Rotating Speed
(rotations per minute)
Approx. Capacity
SSJ400-800
2 x 22KW
16 / 26
25 / 35 RPM
1,500 KG/H
SSJ400-1200
2 x 30KW
24 / 40
25 / 35 RPM
2,500 KG/H
SSJ450-800
2 x 30KW
16 / 26
18 / 28 RPM
3,000 KG/H
SSJ450-1200
2 x 45KW
24 / 40
18 / 28 RPM
4,000 KG/H
*CE certification available.
*Larger, more powerful models available based on your request.
DOUBLE-SHAFT VS SINGLE-SHAFT SHREDDERS
Although both single-shaft and double-shaft shredders are very capable of handling large-sized plastic pieces, double-shaft shredders are better suited for handling bulk volumes of hollow, light-weight plastics such as PE films, PP tubes, HDPE drums, and even rubber tires, automotive parts, and electronic waste.
Single-shaft plastic shredder machines, on the other hand, are better suited to handle solid, thick pieces of plastic such as plastic purging, runners, pallets, and even wood, branches, and bones.
ADDITIONAL IMAGES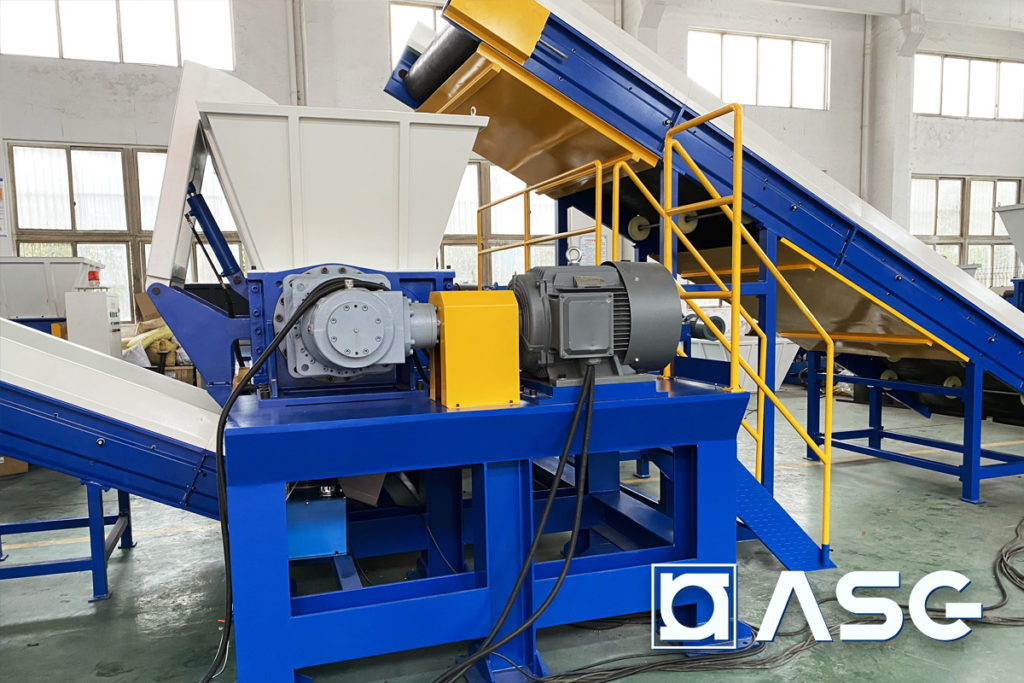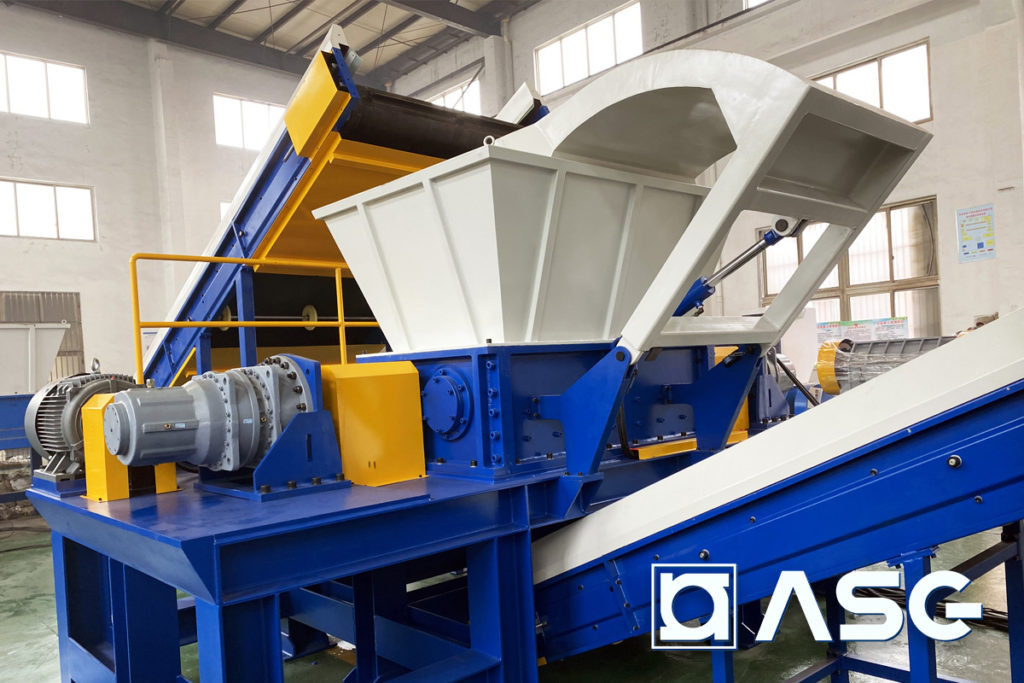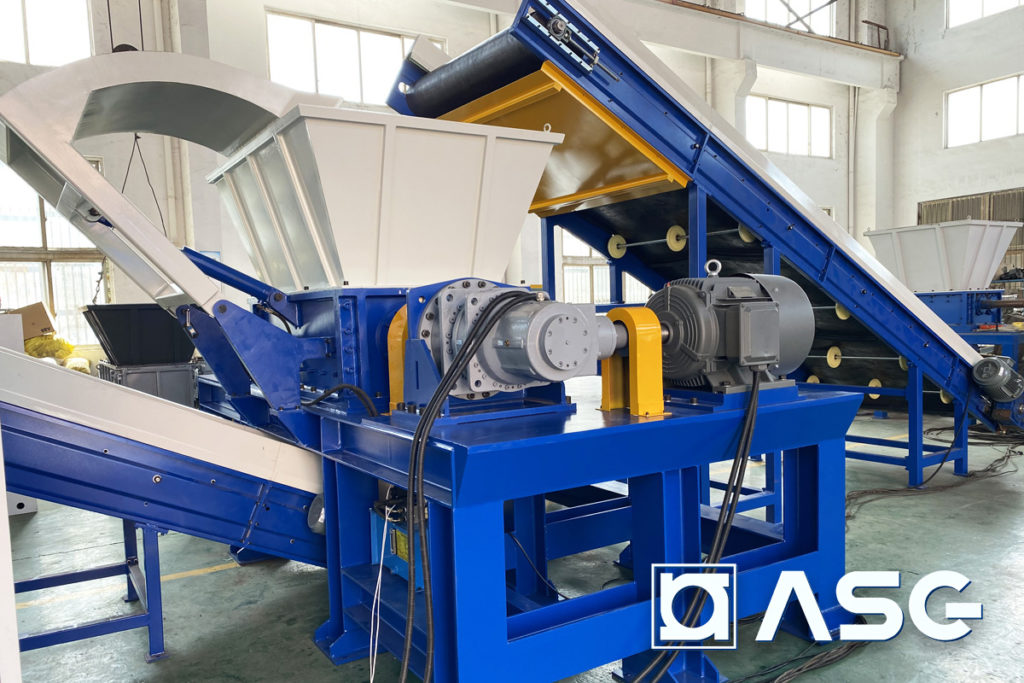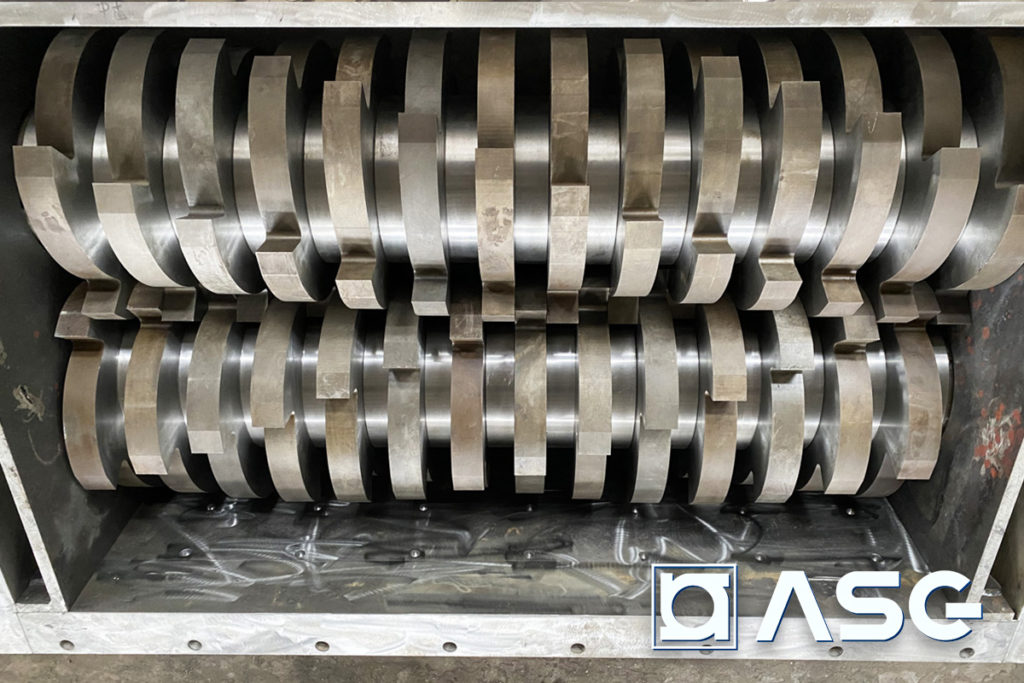 WARRANTY
All recycling machines come with a 1 year limited warranty.
INQUIRIES
To get the latest prices and lead times, send us a message using the form below.