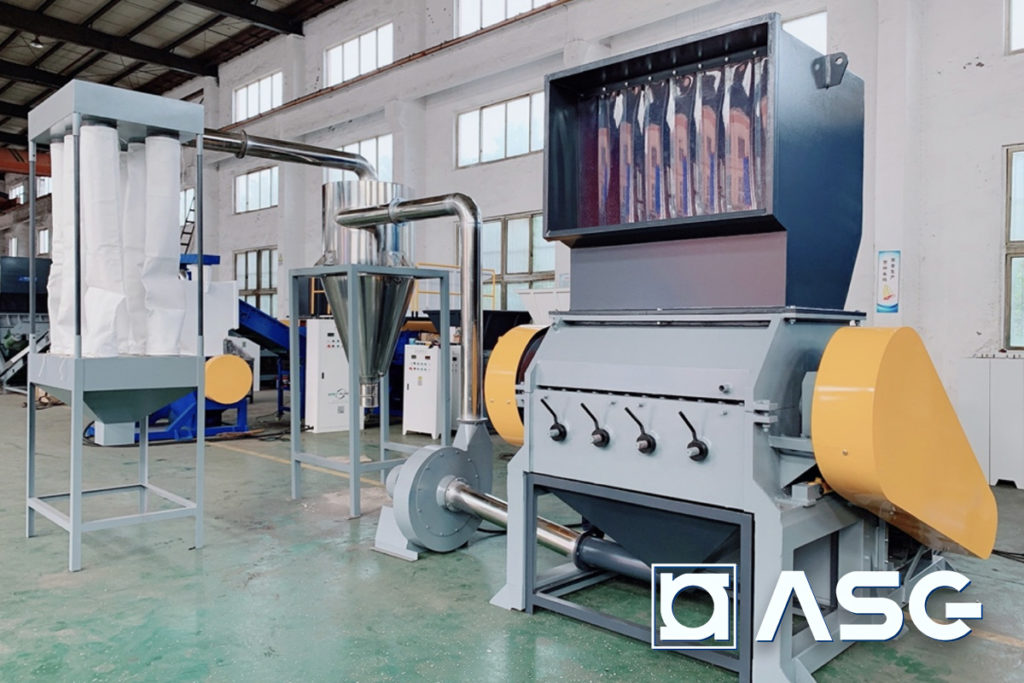 This XL model of our rigid plastic granulator machine is designed for high-volume granulation of large-sized rigid plastics such as drums, pots, baby seats, pallets, and more. You can choose from four powerful models with capacities starting from 300 kg/hr up to 1200 kg/hr.
If you're looking for a smaller sized plastic granulator for rigid plastics, see our standard rigid plastic granulator machines.
WORKING PRINCIPLE
Similar to our standard rigid plastic granulator machines, our XL model granulators are designed to crush large pieces of rigid plastics with thickness below 2 cm. If you're looking to cut thicker rigid plastic materials, please look into our single-shaft shredders.
Inside the cutting chamber of this rigid plastic granulator, multiple high-quality D2 steel blades are attached onto a wide open rotor. These claw-like blades are specially heat treated to improve strength, anti-corrosion, and durability to ensure the granulator remains in operation for the longer cycles without requiring to sharpen the blades.
As the rotor spins, the many rotary blades come in contact with stationary blades attached to the cutting chamber walls resulting in the rigid plastic being continuously cut. The blades are strategically aligned in a step design to reduce pressure buildup and improve cutting force. As the plastic becomes smaller and smaller, a screen filter at the bottom of the granulator allows small pieces of cut plastic to fall through exiting the machine.
This rigid plastic granulator offers simple access to the cutting chamber for easy cleaning. When the blades become dull, they can be easily removed for sharpening over and over again.
Instead of out sourcing your blade sharpening, why not lower your monthly costs by professionally sharpening the blades yourself with a fully automatic granulator blade sharpening machine?
TECHNICAL SPECIFICATIONS
| | | | | | |
| --- | --- | --- | --- | --- | --- |
| Model # | Motor Power | Qty Rotary Blades | Qty Fixed Blades | Cutting Chamber Size | Capacity |
| SW-600 | 37 kw | 3×2 | 2×2 | 600 mm | 300 kg/hr |
| SW-800 | 55 kw | 3×3 | 2×2 | 800 mm | 600 kg/hr |
| SW-1000 | 75 kw | 3×3 | 2×2 | 1000 mm | 1000 kg/hr |
| SW-1200 | 90 kw | 3×4 | 2×3 | 1200 mm | 1200 kg/hr |
*CE certification available.
*Larger, more powerful models available based on your request.
ADDITIONAL IMAGES
WARRANTY
All recycling machines come with a 1 year limited warranty.
INQUIRIES
To get the latest prices and lead times, send us a message using the form below.