Description
A trommel is a slow rotating separation equipment used to remove small contaminants from a recycling stream. Although slow moving, this robust piece of equipment has been proven effective in numerous applications and is often used in municipal waste separation in large Material Recovery Facilities (MRF).
At the core of a trommel is a large cylindrical mesh screen tunnel that rotates between 6 – 10 rotations per minute. Flaps are mounted on this interior tunnel to continuously flip the feed stock as well as guiding it in a forward motion. As the feed stock slowly moves through this large piece of separation equipment which tilted at an angle, small pieces of unwanted contamination such as broken glass falls through the mesh screen and is collected. Pieces that are larger than the mesh screen holes moves forward to the next piece of recycling machinery.
ASG offers a standard trommel that is 2000mm in diameter and 1200mm long with automatic brush units to keep the mesh filters clean. Our trommels use a two-wheel or four-wheel drive design and come with frequency and synchronization controls. Depending on your requirements, ASG can also provide trommels made to your specifications.
Specifications
| | |
| --- | --- |
| Main Motor Power: | 11KW x 2 |
| Belt Conveyor Motor Power: | 3KW x 2 |
| Trommel Length: | 1200mm / based on your specifications |
| Trommel Diameter: | ⌀2000mm / based on your specififcations |
| Tilt Angle: | 3 degrees |
| Trommel Rotating Speed: | 6 RPM |
| Belt Effective Width: | 1400mm |
| Roller Diameter: | ⌀250mm |
Additional Images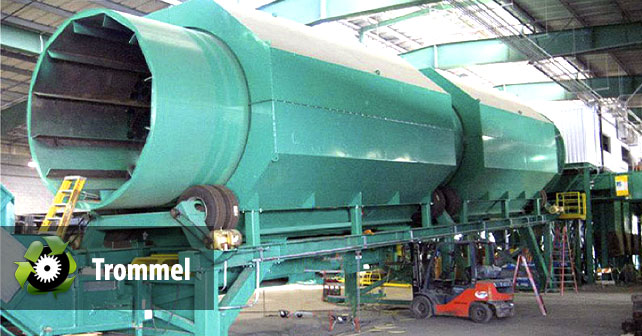 Place An Order
The general lead time for all single-piece, standard equipment orders is 30 days. For custom orders or complete washing lines, the lead time is between 60 – 90 days. The actual lead time will depend heavily on the complexity of the project as well as the amount of machinery we have in queue at the time of your order.
Contact us to discuss pricing and ordering details. Here is a brief summary of our ordering procedures.